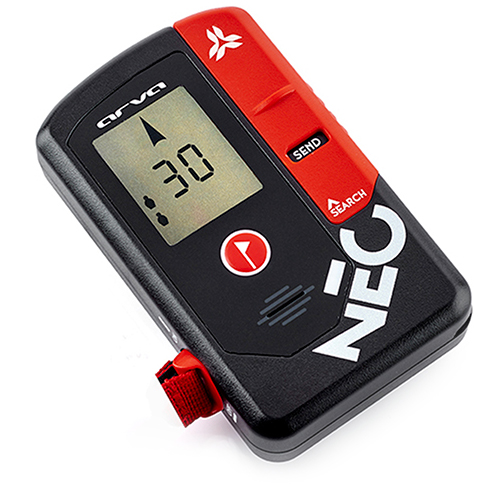 Antennas

3

Multi burials

yes

Range

60

Released year

2011

Availability

available

Average price

350$
ARVA NEO official promo
ARVA NEO introduction. Jeremy from ARVA describe Neo avalanche beacon. Main features.
This is ARVA's presentation of NEO. Short review about how does it work.
Intuitiveness and performance are the keywords that help to define the NEO. With a search bandwidth never seen on the market, and an improved performance in reliability and speed, the NEO is the most powerful device on the market. The simple and powerful interface matches both the demanding needs of the most advanced users, who will be impressed by its incredible range, as well as beginners, who will appreciate the user friendliness of the beacon.
transceiver: 457 kHz, international frequency.
100% digital
User friendly
Marking function for multiple victims situations (3 or 5m)
Multiple victims icon 1, 2, 3, 4 and +
Group check
Automatic switch back to transmit mode with timer
Dynamic interference management
Bright screen technology
Battery life 250 Hrs.
Power supply: 3 AAA/ LR03 alkaline batteries.
sFrequence test
Arva NEO community reviews
This is small demonstranion of how it works in search mode, markings burials and short review of mail specifics.
According to beaconreviews' review the ARVA Neo is a three-antenna avalanche transceiver which easy to use, works good and have moderate price.
Neo has similar to the Pieps DSP Pro search strip width 60 m.
Neo as most modern transmitters supports multi-burial search and you can mark transmitting beacon for ignore it (when you found first victim) and go on searching.
Neo has very loud audio signal.
Neo can show you the direction of searching also it displays U-turn if you need to turn back.
Neo could be breifly programmed to disable/enable group check mode, to automatically switch from search to transmit mode (it may be usefull, if you get buried by a second avalanche while searching process).
ARVA Neo short demonstration how multi-burial and a group check work.