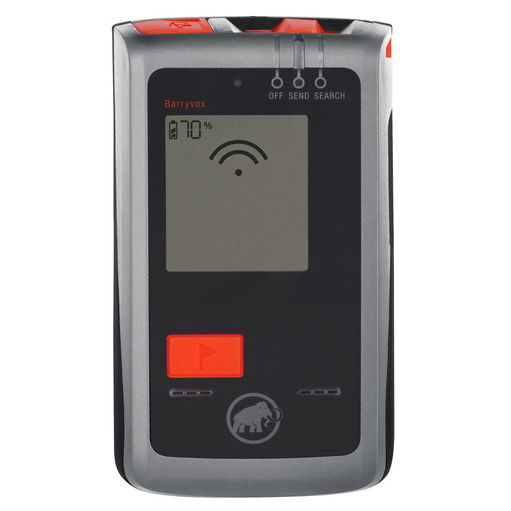 Antennas

3

Multi burials

yes

Range

70

Released year

2017

Availability

available

Average price

350$
Mammut Barryvox official description
A digital three-antenna device reduced to the essential functions. The Barryvox® scores well on simple navigation and clear instructions. With a large receiving bandwidth and an effective search strip width of 70 meters, it offers users a simple interface and intuitive operation. From an easy-to-read display to buttons that can be operated even wearing gloves, shock-proof and break-proof housing and a revolutionarily simple visual interface, the Barryvox® shows that powerful performance and sophisticated search guidance do not need to be complicated.
Mammut replaces Element with new Barryvox. What better in new transciever? As they said it's much simplier in use. It has 70m search strip width instead of Element's 50m. It has big display (2'') with user friendly icons, intuitive to understand, only one button to operate. Barryvox capable to single-burial searches and as well as copmlex multiple burial searches. So this is powerful and easy to use transciever for those who prefer simplicity. It's appears on market since October 2017. So we looking forward for community reviews.
Features:
Effective digital search strip width: 70 meters
Digital receiving bandwidth: 70 meters
Circular receiving field: almost identical receiving bandwidth for X and Y antennas
Display: display with background lighting, very easy to read even when wearing polarized glasses
Acoustic search guidance: allows the rescuer to visually search the avalanche field
Reverse direction function to avoid 180-degree search errors
Group test with clear instructions
Visual interface: shows distance, direction and number of buried subjects
Design: ergonomic, impact-proof and break-proof. Can be operated while wearing gloves
Device tests: automatic self-test and function test
Multiple buried subjects: digital signal processing in the event of several buried subjects
Automatic switching from send to search (Auto Revert): if a rescuer does not move for 4 minutes, we assume a secondary avalanche and the device switches to SEND mode (motion-sensor controlled)
Attachment: includes highly functional Barryvox carrying system
W-Link: Additional communication channel for improved search performance
Manage the device fleet via W-Link
updatable software
Operating temperature: -25° to +45° Celsius (-13° to +113° Fahrenheit)
W-Link frequency: 869.8 MHz
Battery life Alkaline: around 300 hours SEND
Batteries included: Yes
Sending frequency: 457 kHz
Digital search strip width: 70 m
Buried subject marking: mark
EN standards: EN 300718
Warranty: 2-year warranty; additional 3-year Mammut guarantee if registered year
Battery type: Alkaline 3 x AAA 1.5 volt
Made in Switzerland: 100% Made in Switzerland, produced and developed in Switzerland
Link to official website
Mammut Barryvox community reviews
Detailed look at the Mammut Barryvox S and Barryvox transceivers. Comparison Mammut Barryvox with its predecessor Mammut Element, and Mammut Barryvox S with its predecessor Mammut Pulse. Review about functions, buttons and ergonomics.
ISPO 2017, Ilari Dammert (Senior Product/Project Manager Avalanche Safety) presents Barryvox by Mammut.