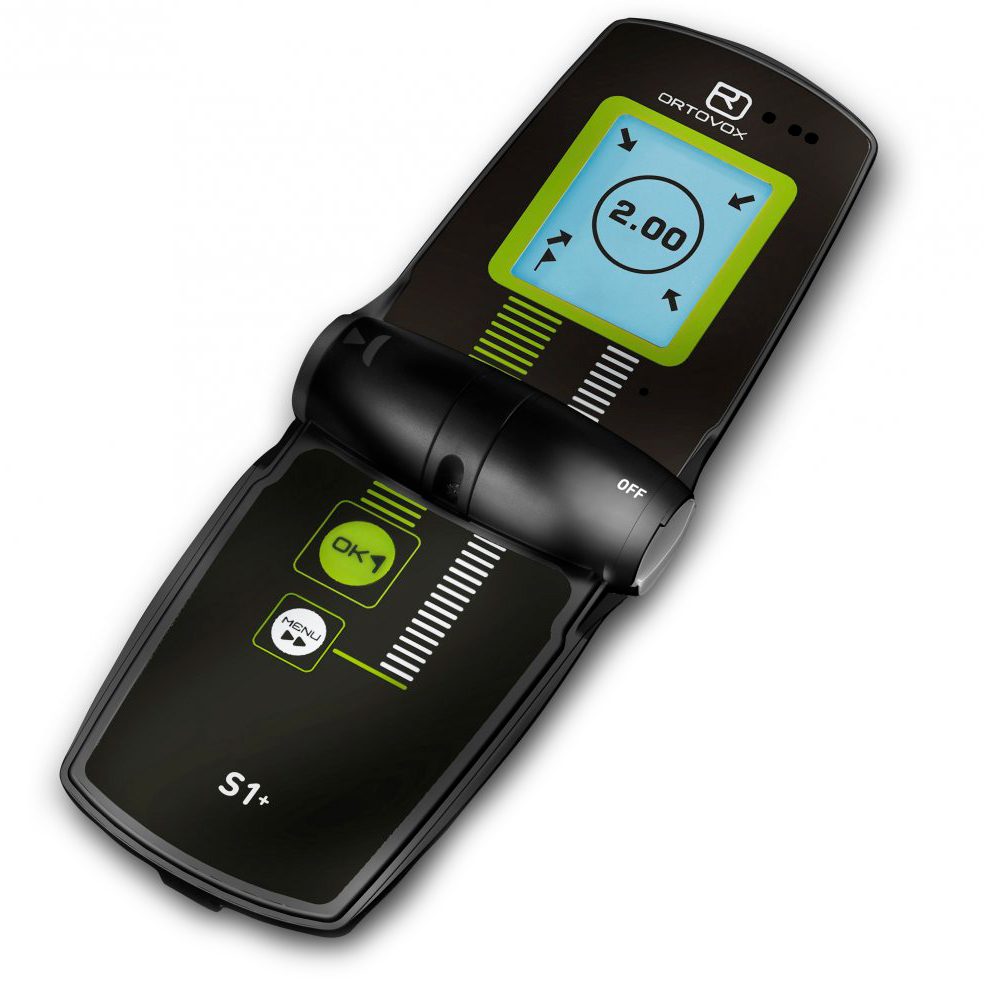 Antennas

3

Multi burials

yes

Range

50

Released year

1900

Availability

available

Average price

480$
Ortovox S1+ official promo
(Video language DE)
This is official short video-review of functionality Ortovox S1+.
Ortovox S1+ official description
The S1+ combines the success stories of two unique avalanche transceiver innovations: the display showing the relative position of avalanche victims and the SMART-ANTENNA-TECHNOLOGY™! Handling the device is more intuitive than ever. Once switched on, it transmits, but when opened up it switches straight to search mode. The illuminated 360° Real-Time-Display shows the position in the avalanche and gives unmistakable action instructions. As soon as the person searching begins the pinpoint search, the patented circular display and intuitive search acoustics help the location process. Located victims can now be flagged and the search can continue. Follow-up avalanche switchover and SMART-ANTENNA-TECHNOLOGY™ provide a safety plus for the user, while the economic power management protects the environment and your wallet – just two batteries are sufficient for 250 hours in transmission mode. Of course the device can be updated.
Product features
Receive function: digital
No. of antennas: 3
Comfortable bag and hand loop
Up-Box update compatible
Microprocessor control
Autom. switchover in case of a secondary avalanche
Intuitive search acoustics
Visual support at fine search
Smart-Antenna-Technology ™
Permanent monitoring of the transmitter
Self-test
Flagging function
Display backlight
Recco Reflector Inside
Overview including burial position
Parallel team search in multi burial
Partner check
Deep burial mode
Pro mode for complex burial (4+)
Inclinometer
Device personalization
Individual speker configuration / Display contrast setting
Max. range / search strip width (im m): 55 / min50
Batteries: 2 AAA Alkaline Micro 1,5 V
Transmission capacity: 250h
Dimensions (in mm): 120 x 80 x 30
Weight (incl. battery and case): 230g
Warranty: 5 years with registration
Display of all victims
Link to official Ortovox S1+ info
Official info about recall Individual feedback after search training and intensive follow-up inspections have shown that in very rare cases, a disturbance can occur in the transmission function in the ORTOVOX S1+ avalanche transceiver. The reason for this is the possible failure of a component.
In order to eliminate any risk for our customers, we have decided on a precautionary recall so that the affected component can be replaced. The S1+ devices affected by the recall may no longer be used without the required component being replaced.
A revamped S1+ can be recognized by the green border around the menu button and the horizontal green bar beside it. These graphics are white in devices that are yet to be revamped.
Ortovox S1+ community reviews
Video overview of the Ortovox S1+ avalanche transceiver. Demonstration of ON/Off S1+ and menu browsing.
Ortovox S1+ is a three-antennas avalanche transceiver with great functionality and usability. It offers multi-burial mode with marking victims (suppressing transmitting signal from burial). It's easy to use, has user friendly interface and intuitive in search mode. Good in spike tests. Has a good audio signals, changing when distance to victim decreasing. Auto turning from search mode to transmitting if there no signal in 90 seconds. Has a quick test (similar to group check mode in other transcievers). This is breif review about enhancements in S1+ in comparison with its predecessor S1.
Ortovox S1+ avalanche transceiver review. How to ON/Off the S1+, how to turn ON search/sending modes, about display's indications, short searching test. How to mark victims in multi-burial search, and about some else functions.