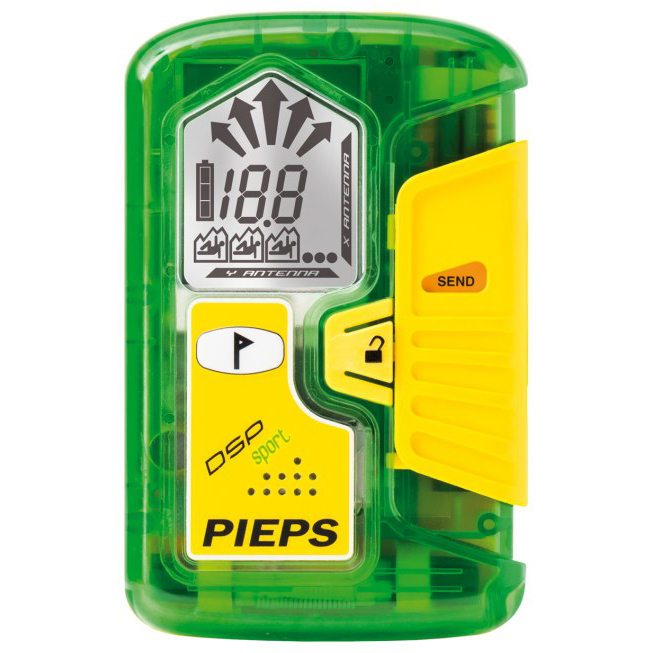 Antennas

3

Multi burials

yes

Range

50

Released year

1900

Availability

available

Average price

300$
PIEPS DSP SPORT official promo
Representative of Black Diamond Company, Ryan Guess makes a quick overview of the PIEPS DSP SPORT and DSP PRO transceivers. New design and basic functions of transceivers briefly views in the video.
Extensive self-check. Review of all relevant hardware and software elements as well as showing the current software version.
Perfectly readable display in all lighting conditions
Auto-antenna-switch. If the transmitting antenna experiences a fault due to electronic devices or metal interference, it automatically switches to the other antenna.
Auto-search-to-send.This function automatically switches the PIEPS DSP SPORT from search mode to transmit mode, if the beacon is not moving for a certain time (in case of burial).
iPROBE SUPPORT. The PIEPS DSP SPORT can be temporarily deactivated using the smart iPROBE. The receiving beacon automatically receives the next strongest signal.
Group check.Reviews the activity and transmission parameters of the partner device. PIEPS recommends to perform a group check before each tour.
Carrying system PIEPS DSP SPORT. High wearing comfort at low weight
Neoprene pouch with soft shoulder strap
Quick-Pull-System for fast access to the device
Maximum range (m): 50
Search strip width (m): 50
Dimensions (mm, LxWxH): 115 x 75 x 28
Weight (g, incl. batteries): 210
Power supply: 3 batteries (AAA)
Battery lifetime (min. h) : 200
Transmission frequency (kHz, according to EN300718): 457
Temperature range: -20°C to +45°C
PIEPS DSP SPORT community reviews
Demonstration of the Pieps DSP SPORT in the search mode. The search of two victims for demonstrating the function of marking is considered.
PIEPS DSP SPORT - three-antenna avalanche transmitter, is the "younger brother" of the flagship PIEPS DSP PRO transceiver. SPORT differs from the big brother by the absence of some advanced functions, however, it is a powerful and very convenient transceiver by itself. From the review of beaconreviews.com, we can distinguish such advantages of PIEPS DSP SPORT: it is relatively inexpensive, has a large transmit-receive range (50 m), equipped with the function of switching to an additional transmit antenna, if the signal of the first antenna is muffled by some devices or metal objects. Moreover, it is very easy to manage it in gloves; it has an intuitive interface and a very convenient system of fastenings on the body. Also according to the site, this transceiver has no shortcomings for its class.
This transceiver is suitable for anyone, even for an unprepared user due to its simple interface and control buttons.
This video demonstrates the work of the self-checking transceiver, switching between modes. Demonstration of work in the search mode with the participation of one transmitting beacon. The display and the notation on it are very clearly visible.